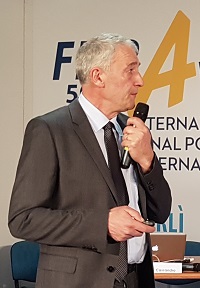 Jean Luc Favennec (Aviagen Turkeys)
Scarica la presentazione  -  Download the Powerpoint presentation
Abstract:
Nutrition facts and fitness are becoming a concern in the Mediterranean and North African regions (MENA). There are four countries in the region that are ranked in the top ten countries with diabetes and over-weight challenges. Consumers in the MENA region are well informed about the risks of cholesterol and high fat levels in the diet and are looking for a healthier choice. The new generation, with changing tastes and limited time to cook, is looking for ready to cook products that are healthy and easy to prepare. Turkey meat consumption is an excellent choice due to its versatility to blend nicely with many regional spices, lean protein content, lack of religious barrier, and easy to prepare.
Millions of pounds of turkey meat are imported to the Mediterranean region from Europe, North and South America and sold as tray pack products or further processed and sold as value added and prepared products. However, there is significant production in three North African countries (Tunisia, Morocco, and Algeria) and to very limited extent in Egypt and Libya. According to Orrani Consulting Group 2015 Survey, United Arab Emirates (UAE) turkey meat consumption is increasing approximately 10% per year. The consumption of turkey meat in UAE is about 60% whole body, 12% thigh meat, 10% breast meat, 13% processed products such as ham and smoked breast and 3% as ground turkey meat.
The three main producers in North Africa represent a population of 182 million. The population is young and growing. About one third of the population has access to full protein consumption and more important is that the number of middle-class families with higher disposable income is increasing. About 34 million turkeys are produced in North Africa. Government support in the early stages of the turkey industry development in these countries was critical but currently the industry is self-sustained and very progressive. Currently product distribution by passes supermarkets in mid-size towns or in the suburbs of big towns. The distribution chain is short and most of the turkey producers have developed their own local branded shops across the country. The demand for fresh and locally produced meat is high and increasing especially those local governments set import barriers to protect local production.
Production of turkey meat is also common in Israel and Turkey and in its early stages in Iran. Turkey production in these countries is 75,000, 52,000 and 35,000 metric tonnes respectively.
Turkey meat production in the MENA region is higher than other regions such as US and South America as most of these countries have limited local grain production. However, they can be reasonably competitive due to government support, lower labor and housing costs for example. For example, in North Africa live production cost is about 67 cents per lb while in the US it is about 52 cents per lb. Feed and poult make about 81% of the total cost in North Africa versus 73% of the total cost in the US.
Turkey meat production will likely increase in the Mediterranean region to meet the demand of those looking for a healthier diet. Turkey meat will fit very well to all meal plans due to its protein versatility. A 3-ounce serving of boneless skinless turkey breast contains 26 grams of protein, one gram of fat and Zero grams of saturated fat. That's 8 percent more protein than the same size of serving of boneless skinless chicken breast or trimmed top loin beefsteak.