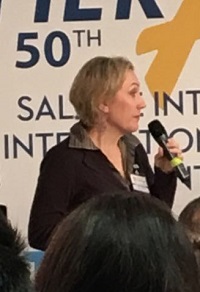 Lara Sanfrancesco (Unaitalia)
Scarica la presentazione  -  Download the Powerpoint presentation
Abstract:

The Mediterranean Countries are an attractive growing market with good opportunities for many EU and non-EU poultry producing countries.
More in details, North Africa shows an attractive growing rate in poultry internal demand and the impact of imports is still quite high. The main producing country is Egypt, which in 2014 produced about 1 million tons of poultry meat, followed by Morocco (640k tons), Algeria (287k tons), Tunisia (212 k tons) and Libya (126 k tons). These countries with different timing and methods are changing gradually from rural production to an intensive and more organized system. They are uncompetitive compared to major world producers (Brazil, USA, and Thailand EU) and have attractive growing rate in domestic demand linked to the improvement of the socio-economic conditions of the population and the political stability of governments.
The average per capita consumption of meat poultry in these countries is very low in Egypt (12 kg), Tunisia (15 kg) and Algeria (7.5 kg), instead it exceeds 20 kg per capita in Morocco and Libya. The main growth drivers in the coming years will be: increase productivity (reduction in mortality and increase in conversion rate); increase self sufficiency and reduce imports, also with protectionist policies; reducing dependence on foreign countries for feed materials.
An exception worth Turkey, which has become in few years one of the leading manufacturers of the Mediterranean area, able to compete with the big global producers. The production in 2015 was over 2 million tons, similar to Poland, the first European producing Country. The Turkish poultry sector is characterized by a good vertical integration, concentration of supply in medium-large groups and good sanitation standards, in compliance with European ones. The internal consumption is above about 21 kg per capita, similar to the Italian one. Turkey has also increased over the years its export share, doubling in just five years. The main country of destination is Iraq, which receives more than half of the total amount of 360,000 tons of export in 2015. The whole Turkish production is halal and this, together with advantages in production costs and strategic location with the Countries of the middle east, is a significant competitive advantage compared to major world exporters.
Italy has no strong trade relations with the Mediterranean countries, except for Albania and Croatia. Geographical proximity and product innovation could be a positive lever for exports ,in the face of reduced competitiveness for the higher production costs of export-oriented countries (USA and Brazil and Turkey itself).